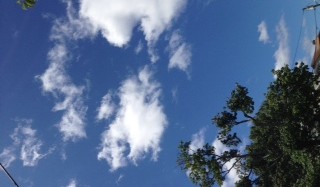 I recently took a trip which was to be exactly what I know I needed: time to recharge, time to think about, talk about and be inspired by writing and creativity, and time to work on projects that are important to me. I thought I returned home motivated and ready to take on the world.
But returning home, in reality, meant jumping back into a world where creativity and personal projects get put on the back burner. Things like a sink full of dishes, a hamper full of laundry and a day job that pays the bills all get in the way of doing what I actually love to do. Returning home meant being faced with new challenges and new drains on my time. How I feel about the challenges is irrelevant. Sometimes you just have to do the things you don't want to do.
When I was a kid, just like any other, I didn't want to do anything that didn't immediately please me. "Tough shit," my mother would say. "If you'd have just done it instead of complaining about it, you'd have been done by now." Homework, a chore, grocery shopping or errands, it didn't matter, this was my mother's response.
When her health declined so much so that her responsibilities became unmanageable for her and therefore became mine, her tough-shit-just-do-it attitude didn't wane. She just mixed up the words. 

"Sometimes shit happens, 'Chelle."
So I do my chores. I'd be lying if I said I did them with little complaint but they get done. I do them first so that they will be done, the implication of my mother's words of wisdom having lead me to believe that once the chores are out of the way the fun times can begin. That may have been true at one point, but it certainly isn't true now.
By the time the chores are done for the morning it's time for work and then when work is done it's time for chores in the evening and when those chores are done it's time for sleeping. But sleeping is just for me and for no one else and it's not a job someone pays me to do so it's supposed to count as leisure time, right? And when I get done with sleeping: chores.
And I know that this is the same for every working mother. There are often more obligations than there are hours in the day. I know for some it's easier and for many more it's harder but I don't think it actually helps any of us to know this since knowing we all have to do the dishes and fold the laundry doesn't actually get the dishes done or the laundry folded.
What I want to know is how they all manage their dreams? We obviously can't have it all as we may have been told, or at least not all at once. Do I need to just wait and my time will come or is that just another lie I tell myself so I keep getting up to do the dishes?
My mother's dreams died while she sat on her couch. If I could tell her now that I have dreams, would she adapt her tough shit talk once again?