My posting in December has just been shameful. I started writing a few things, but they didn't get done. No time. There just isn't any time.
I'm not a fan of December. I used to love Christmas and the whole holiday season. Having a job that's demanding this time of year certainly puts a damper on the spirit, but maybe this would have happened anyway. I don't really have the time to analyze these things. Every year I say I'll do more to get into it – bake or be more generous or something – but then the next thing I know December is almost over and I'm feeling like Thanksgiving was just yesterday.
As someone who likes tradition and dislikes change, part of the issue could be that as the years pass, things change. There are some traditions that hold, but some get let go of, even if only for this year. Change is probably my least favorite part of life, but it is just the way things go and I need to roll with it.
This year for Christmas, all I really want is downtime. Some relaxation, some time with no stress. I'd like to get some stuff done that needs doing so I can cross things off my to do list. I haven't the need or desire for material things. What I need and want is peace, a little extra energy and more hours in the day. I realize that's a pretty tall order.
It's been an interesting year, pushing my patience to the limit for much of it. Perhaps that's the lesson to be learned: to slow down, to try to enjoy the chaos, to search for all the silver linings.
That's it. That's my check in. For now, at least for the day, I'm going to close the laptop and try to find some holiday cheer, spending time with people I love. I hope you get to do the same.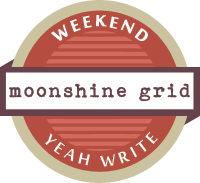 The yeah write moonshine grid is open. Go check out the group of bloggers hanging out there.
Featured image credit: community.trendmicro.com