I told her my earliest memories were of wanting out. Wherever I was, I didn't want to be there. Nothing has changed. I'm looking for the door right now.
"Sweetie," she said, "you know there's really only one way out, don't you?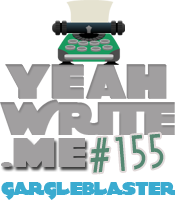 This is my entry into the very first ever gargleblaster at yeah write. Click the badge to learn more.
The ultimate question this week: What's so amazing that keeps us stargazing?
Featured image credit: science.nationalgeographic.com