This is the second post as part of my participation in the ZonePerfect Blog Forward campaign. Mandatory disclosure is required for every program-related post. I hereby disclose to you that although I have entered the program and received complimentary product and ZonePerfect promotional items, I am free to comment about ZonePerfect in a positive, neutral or negative fashion.
And if you stick with me to the end on this one, there's something in it for you. But you love me, so you're going to keep reading, right? Of course you are.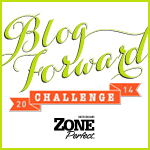 One of my resolutions this year (just like every year for the last 15+ years) is to lose weight and to get in better health. I go in fits and spurts. I do well, then I crash and burn. I lack consistency. Sometimes this happens because I go too far with my diet or exercise, other times it's because I'm lazy and pizza tastes good. So do burritos. And ice cream.
Here's the thing: I know better. I know that everything is OK in moderation, I just often lack the motivation to do things in moderation. So when I make these poor choices, I feel terrible about myself. Feeling terrible doesn't exactly inspire me to do better, so I don't. It's a vicious cycle, you guys.
I haven't lost any weight this year. I haven't really gained, either. But holding steady isn't what I want for myself and it certainly isn't healthy. The only real option I have is to work on making small improvements, make better choices and lose the weight in a reasonable way. Those of you who make these healthy choices already are thinking, "Well, duh, Michelle, yeah." And those of you who are in the same boat I am know how hard those changes are to make.
One recent change has been to include Greek yogurt as a major component of my breakfast. It's filling and packed with protein, so I stay full longer than if I had, say, a bagel. (Mmm. Bagels…)
Another thing I've been doing, particularly on weekends when I'm running like a maniac, is to throw in a Zone bar. I've said this before and I'll say it again, those things come in mighty handy. I can eat them while I'm getting stuff done around the house and since they come in a neat little wrapper, I don't even have to dirty a plate, thus saving valuable time not washing an additional dish. Seriously though, they are packed with protein and are super satisfying.
You see, if I eat lunch at 11am when I'm hungry, I want to eat dinner at 4pm. We don't eat dinner until usually 8pm or later (please don't tell me how bad this is for me, I already know but this is just the way things are). The end result is I end up snacking way too much in the afternoon and it's never healthy. I've found that a bar around 11 lets me hold off on lunch until 1pm and things fall into place better.
This isn't the magic cure to all of my weight woes, but it helps. I feel like I'm more in control of my hunger, which makes me feel good. Feeling good helps me to not eat half a pizza for dinner followed by a pint of ice cream. This is one of the little things that I'm hoping will add up to bigger things later.
Also, if you're obsessed with coconut like I am lately, I highly recommend the Perfectly Simple Toasted Coconut bar. Honestly, I could eat a million of them. They aren't paying me to say that, they are just that good.
Are you interested in trying some? Become A ZonePerfect® VIP & Save up to $10* Your first coupon will be emailed to you. Join Now . *$10 in savings relates to savings spread across a one year period and may vary.
Oh, hey, one other thing! The good people at ZonePerfect sent me a neat little portable charger that I can charge, then take with me places to charge my devices when I'm not near a place where I can charge my devices in a regular outlet!
Guess what? They actually sent me two and I'm giving one of them to one lucky reader.
All you have to do to enter the giveaway is leave a comment on this post. Then I will use a very sophisticated method to pick a winner. By sophisticated I mean I'm going to write the names down on little pieces of paper, throw them all in a hat and pull one out. Maybe I'll let my kid pull it out. Full disclosure: it might not be a hat. It could be a bowl. Or a vase. Or just a pile. But it will be random because I'm very honest. I promise. You trust me, right?
The contest ends at 8:00 AM Eastern time on Monday, June 2, 2014. The winner will be notified via email and will have to send me his or her mailing address so that I can mail the charger. It's totally on the up and up and I will never stop by unannounced. Or announced even, because I'm not really the stopping by type.
OK. That's it. I'm off to eat a healthy snack and you have some commenting to do!
6.4.14… Edited to add: The big winner is STACIE!! You can read Stacie's blog here. She is awesome, so I recommend that you do that.