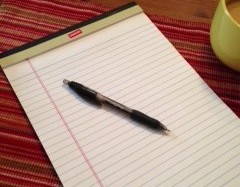 This is it, the last day of November. Thirty days of straight blogging is coming to an end. This was my second year, and just like when I finished last year, I am going on record saying I'm pretty sure I'm not going to do this next year.
The writing went pretty OK. I didn't miss a day. Last year I had a post 99.99% done and then forgot to publish it, so I finished 99.99% successfully. I think bumping that up to a 100% success rate is pretty good.
What I learned from this is that I can make time – EVERY SINGLE DAY – for a regular writing practice. I wrote when work was hectic, when my kid had activities, on nights with a PTA meeting, when my kid had a virus, when I had a virus. I wrote on days when I opened the grid at yeah write (which, incidentally, meant I did two posts that day). I managed to read the grid at yeah write, which was generally 20-30 posts per week. I posted when my husband was away on business for a collective seven days. I posted when I cooked Thanksgiving dinner.
The biggest impediment to my writing was waiting until the end of the day. I feel like I should have known that, since I rarely get anything done after my kid goes to bed. Because my days are GoGoGo all the time, sometimes that was all I had. It would be ideal if I could get out of bed early to write before Nathan was up. How often do you hear of someone doing something ideal though?
Thankfully no one remembered and called me on the fact that I said I was going to also work on my book every day in November. That would be more of living in that ideal world. There is no way I could have pulled off everything else I do, plus blogging every day, PLUS working on a larger work in progress. Basically I didn't touch that all month.
The other part of NaBloPoMo that didn't go so well for me was the reading. Reading the posts of others is supposed to be part of the fun. But since I didn't get to open my laptop until 8 p.m. some nights, reading and writing didn't both happen often. I wish I could have read more of everyone's stuff. If I didn't get to you, I'm sorry.
I think what I've learned is that just because I can post every single day does not mean that I should. Not all of (or much of) what I wrote was quality. I really enjoy blogging, I love getting the comments and I love making blog friends, but what I love most is writing. If I'm not writing quality work, then I'm not using my time wisely.
So where do I go from here? I've made a pact with a friend to continue a daily writing practice but with one catch – blog posts don't count. The focus is writing every single day, not necessarily for someone to see. It's working on the memoir or another longer work in progress, or just plain getting the butt in the chair and doing it. Even in if it's crap, even if it's going to be revised a thousand times over before anyone else ever reads it. But making the time to do it is the essential thing.
I'll still continue my blogging schedule of one to two times each week, plus my regular Tuesday post at yeah write. There's nothing wrong with blogging every day or with NaBloPoMo or any of the other blogging challenges out there. I just don't think they're for me.
If you followed my blog throughout November, thank you! If you've followed before that or you're planning to continue to follow after, thank you!! It's been a fun, interesting, exhausting month. Thanks for sharing it with me. To December and beyond!
This is NaBloPoMo Day 30. You can read more here.