My husband told me to stop telling people I'm trying to empty our house. It's possible I'm getting a bit obsessive, but I've maintained all along it's better than the alternative.
We had some friends over recently and the topic of my selling everything we own came up. We laughed that I probably wouldn't stop until we were sitting on the floor eating food with our hands because I'd sold all the dishes, utensils, and the dining room table.
If my mother had been capable, she'd have been a full-blown hoarder. Mentally she was just the right kind of woman for it, and despite her physical limitations, we still had piles of crap everywhere. It took me many years to learn to live a lifestyle without towers of things threatening to avalanche. I've been told my house looks like people don't live in it for the lack of clutter. But if they saw my home office, they'd know I'm just one mental slip away from my very own cable television special. The tendencies are there, people.
And since I tend to operate in blacks and whites with very few shades of gray, I've come to a point where everything must go. I'm tired of looking at this stuff. I started taking pictures of everything I can and listing it for sale on my personal Facebook page and a few online yard sales. I've donated bags of things to Goodwill and, when my friends were here, I gave away two vases and a gigantic container of dried bay leaves. My friend tried to convince her husband to give me fifty dollars for an old china closet I wasn't even trying to sell, but unfortunately that didn't pan out.
Nathan has witnessed all of these items exiting the premise.
"What's that pile of stuff, Mom?"
"Someone's coming today to buy it."
It's a frequent conversation we have. I don't sell anything that belongs to him without his permission and really, it's all stuff he's outgrown anyway. He doesn't get upset and he's gone so far as to ask me for the money. I thought we were cool.
At some point the other day the conversation among my friends turned to children outgrowing bicycles, what with Spring arriving and all. My friend's son, just a bit younger than mine, was possibly too tall for his current bike and we all wondered if he was tall enough for one the size of Nathan's. So I pulled his bike from the garage and called the other kid over to hop on for measurement's sake.
Upon seeing this, Nathan went white and exclaimed, "What?! You're selling my bike, too!"
Haha. Whoops.
Maybe my husband is right. Maybe I'm scarring my kid for life with my drive toward minimalism. I guess we'll find out if he ends up with his very own episode of Hoarders some day.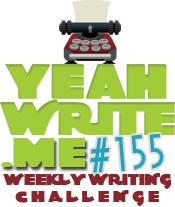 I'm adding my post to yeah write's weekly writing challenge. It's open submissions this week and next,  all in celebration of the challenge's third birthday. Oh, and there are prizes! Click the badge to see what the fun is all about!