The drawer was pulled open. The utensils slammed against the back from force. The plastic tray holding them scraped the bottom, the same rattle-scrape for twenty-five years.
These knives were once weapons used against us both.
I'll be glad when they're gone.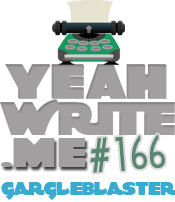 To find out what the gargleblaster is, click the badge above. You can read the other entries into the challenge and vote for your favorites on Tuesday.
Edited to add: Hey look! I came in 7th and earned myself a top row seven badge. Yay me!