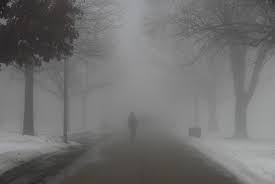 I've been struggling to think about people I used to know. I grew up in a small town. I went to a small college. Most of my jobs have been long term. There were people I saw almost every single day and now it's been so long since I've seen them I can barely remember that they used to exist in my world. Facebook became a place to reconnect with old friends and, of course, their lives have gone on just as mine has but I still see them there. Some are further in the background than others, slightly more blurry in my mind's eye.
There are others I only hear about in passing. Gossip and rumors, hey-did-you-hear-about-this-one sort of stuff that floats around, the things that make old friends talk because it is their common ground. People we used to know – we share that.
And then there are others who just appear to be gone. I'm sure if I asked I could find out their deal. They hate social media or they moved away but their mom is in town or whatever. I'm sure they exist in some space and they are, somewhere, a fixture. Just like they used to be for me. Just like I used to be for them. Maybe.
Time always marches on. Things always change. People will always come and go. It seems like we take for granted that people will always be around simply because they were always around. But then they just aren't and years go by and suddenly I realize that people have just faded away out of my memory.
People, as much as we may not want to admit it, just become obsolete. There's some newer person who swoops in, maybe she's more clever or more hip or more cool but whatever she is she's just more of it. As much as things change people do, too, and it's one of those things we can't stop if we try but we don't always notice it until it's too late. And whether it's that we let someone replace our old people or someone let us get replaced when I stop and think about it, it just leaves this cavernous pit in my stomach because all of us, each and every one of us, is replaceable even if we swear up and down that it'll be different.
It won't be different.
And before long, we're just gone. Maybe we'll pop into someone's head someday and maybe someone will ask whatever happened to? or maybe not. Maybe we never pop back up. Maybe we're completely forgotten.
Maybe we all just fade away.
Sometimes I feel like I'm not a real person, like I'm just a shadowy specter floating in the background until it's time to fade away.