Think about human life for a minute. Think about the idea that two people get together and do what people do and then, from that, another person is created. Just like that. It happens in an instant. Wild, right?
As the four year anniversary of my mother's death approaches, I'm not feeling what I would have expected to feel. I'm not deeply and profoundly sad as I have been in past years. I'm not doing the fandango over here, but it's more a general melancholy this time around. Perhaps my emotions will change day to day, minute to minute, as it gets closer. That is probably normal and to be expected.
I think I'm finally coming to terms with the idea that what's done is done and it is all it will ever be. I mean, what choice do I have? She is already dead. Failure to accept this reality will not alter the ultimate ending. She is and will remain dead.
In one instant, she ceased to exist and I, in turn, ceased to be the person I was.
Things have changed so much since she died. These are changes I believe could not have happened until she was gone. There isn't one single transition and for every one there is, there's an offshoot of that creating a new shift, like branches on a tree.
I'm not who I used to be. I'm a person without a mother. The woman who got together with someone else and did the thing that people do, then carried me inside her for months is dead. And this human being, or what's left of her at least, is sitting in a marble urn, a fine powder I presume, on my mantle. Think about that. That's the reality of things. She's dead. She's powder. She's on my mantle.
Some days it's a sad thing, an emotional thing. And other days, it's just a practical thing. These matter-of-fact acknowledgements happen more now as the intensity of my grief wanes. I think to myself oh, I have to go dust the mantle… Hi, Mom… It's just how it is. Maybe I'm compartmentalizing. Maybe I'm accepting. I don't know.
Four years and everything is different. A part of me, my past, is gone. My future, one that was virtually unimaginable while she was alive, looks bright. The enormity of the realization that her life and her death are both so instrumental in shaping everything about who I am is sometimes surprising. And yet, it shouldn't be. She gave me life – it's only right that everything between us will be profound, even when the depth of it isn't felt until I'm ready to feel it.
I keep thinking back to one moment: I was walking out of her room, hospital visiting hours over for the day. I knew she wouldn't live though the night. I knew I'd never see her again. I'm just starting to understand the gravity of that walk.
Think about human life for a minute. Think about the idea that a person goes around and does what people do and then, one day, they don't. Just like that. It happens in an instant and everything changes.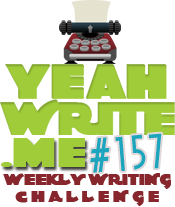 Joining my friends in the weekly writing challenge at yeah write. Click the badge to read the other entries and learn more about what the challenge is all about.