I've been kind of light on the blogging lately. If I've said it once, I've said it a million times, I don't know how people find the time to blog daily when they do other things. Since I do a lot of other things, the blogging has been a lower priority.
So if blogging isn't number one on my list right now, what is?
I hereby present to you The Goals and Stuff for Two-Thousand-Fourteeeeeeeeen!!!!!
1. Writing. Wait, what? But you said…? I know I said blogging isn't a goal, but writing is. This isn't to say blogging isn't writing, of course it can be. I just mean I'm focusing my efforts elsewhere: the memoir. It's getting done this year, people. I mean DONE. If you're newer to this blog, I'm writing my story of growing up with an alcoholic father who was never around and life with my mother who was diagnosed with multiple sclerosis when I was 14 and died when I was 34. It's a lot of ground to cover, some of it is pretty tough to write, but this story has been trying to burst out of me for years and I'm going to finally let it.
That means the blogging might be a little light at times. I don't want to use all of the material for the book on the blog (I've done some of that, and if I ever get around to categorizing these posts you might even be able to find them!). And some days, after writing for the book, I'm tapped out. I also still have my yeah write gig, so that's another different kind of writing that's zapping my writing energy. I hope you understand.
2. Empty the house. I know, you think I'm kidding. I'm not. My goal is to empty this house of every single non-essential item. Obviously the people who live here will have have say and my non-essential is probably going to look different from your non-essential. But we have a lot of stuff and by the end of the year I want to have significantly less stuff.
It's a purposely vague goal. I can't say I will get rid of 1,000 things, or that I want certain rooms empty, or that for every one thing that comes in one thing will have to go out. What I can say is that my goal is to have what we need and no more. What we have will need to have it's place and if there's no physical place for it, it's relative need will have to be examined. It's not small undertaking, I assure you, but I do think it's possible. My main targets at this point are my attic and basement. Both are filled with things set aside for a yard sale we've yet to have (it's only been 3 years…) and at least a dozen bins and boxes are things of my moms that I need to sort through. So, yeah, it's a lot.
3. Health. (Yes, I'm still on this one.) I still need to lose about 50 pounds. I still need to get into a regular exercise routine and make it stick. I still need to make eating well a daily thing. I still need to cut back on the caffeine and I still need to get more sleep. More about all that another time.
I have other things I'm working on, but those are the top three and they pretty much trump everything else right now. If I get where I need to be on any one of them, I'll add something to the mix, but for now this feels like more than enough. I'll keep you posted on my progress, I'll still be here with some amusing anecdotes and I might even throw in a tear-jerker post every now and again. But if I steal away for a week or two, know that I just have my head buried in other things.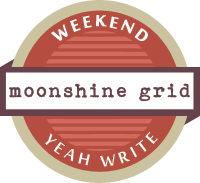 If you're looking for more reading, click the badge and check out some other bloggers.