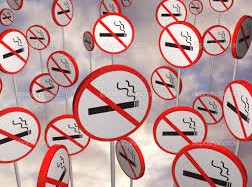 Posted by
michellelongo
on Feb 26, 2014 in
Memories
,
Mom
|
26 comments
Lately, I've been dreaming about my mother and cigarettes. It's no surprise. The anniversary of her death is approaching, as is the anniversary of my smoking relapses.
If you ask any of my friends who knew my mom, most will remember calling her Ma'am (as a joke, of course) and whining, "Oh, fucking shit," one of her often-used phrases, while putting two fingers to the lips in a mock-smoking fashion. We did this to her face, we did this long after she stopped smoking, and we still do this now, because my mother and smoking will always go together.
When I was a kid with little access to cigarettes of my own, I'd steal some from my mother. She smoked menthol, which I do not prefer, but beggars can't be choosers. If her supply was dwindling and thus my thievery easily detectable, I'd pilfer her ashtray, looking for those butts she hadn't quite finished but failed to stomp out into oblivion. I'd wipe off the filter tip and get the last few puffs out of it, feeling the most disgusting part of the whole escapade was the menthol, not the used and discarded cigarette itself.
Though I dabbled in the beginning, I smoked every chance I got. As a mostly unsupervised teenager, that was more often than you'd think. By sixteen, I'd announced to my mother that she would be giving me permission to smoke in the house so I wouldn't have to go for nighttime walks around the block to do so. After all, a 16-year-old girl alone after dark could get hurt out there. She probably didn't have the strength to argue because as much as I'd tell you different back then, I find it unlikely that she just didn't care.
And so, here we are, 21 years later and I care more about what people think about my nicotine addiction than I did when I started. I took 10 years off under the guise of my health but mostly because of the money. But then that fateful night happened when my friend brought tequila to my house because I wanted to get drunk and not feel the pain of having a dead mother. I like to tell her that it's her fault I relapsed on the smoking and that, in the nearly 4 years since that night, I have not been able to get a hold of my desire to smoke, but it isn't her fault. It's mine.
I'm the one who thinks ahead to an occasion to do so, wondering when the next time I'll be with a group I don't feel uncomfortable around, or maybe just uncomfortable around enough that I can run outside to smoke, but also to take a break from the crowd and maybe sit one-on-one with someone for a little while. I'm the one who counts the number of smokers in the group to see if I'm going to look foolish or if someone else will have my back when I skulk off. I'm the one sneaking a smoke in, pretending no one will notice. I'm the one who can't put the feeling of a cigarette buzz or the taste of a Parliament out of my mind, not when I'm awake and not when I'm asleep.
Since the beginning, it's been a 24-hour loop of, "Man, I wish I could smoke," and my friend just happened to be there with a cigarette the night I unmuted it. It was still playing, I just temporarily stopped listening.
I need to find mute button again. If you happen to see it, please let me know.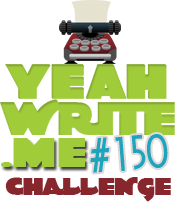 Submitting to the yeah write challenge grid, the best writing community on the internets.