With the onset of a new school year fast approaching, I know my kid is a bit nervous. I won't lie though, I'm think I'm probably more nervous.
I worry about the usual things:
Will I remember to do laundry often enough so that Nathan has clean clothes every day?
Will I have enough of whatever odds and ends are necessary to make whatever ridiculous project he will be assigned that will require me to gather up odds and ends?
How many pencils will be thrown, tears shed, and papers crumpled in an attempt to avoid doing homework he is perfectly capable of doing?
And what about the bullying and shaming?
For the record, I'm not worried about Nathan being bullied. I'm worried about me. These kids are brutal!
Last June, I was standing on the playground with Nathan and some of his friends. He asked if I had packed his lunch I and told him I had. (Of course I had! I only forgot that *one* time.) He was satisfied with my response so I turned to join the grown ups and engage in some early morning, under-caffeinated conversation.
"Nathan's Mom? I've been meaning to ask you something." Nathan's friend had a very serious face on as he addressed me and an even more serious tone.
I need to tell you something about this kid. I've always liked him. He's such a nice, helpful kid. He offered me decorating tips once, including where I could install a flat screen TV on Nathan's bedroom wall so that the next time he came over he could bring his Michael Jackson dancing game for PlayStation. He also suggested I buy Nathan a PlayStation of his very own. See? Very helpful.
Knowing I was likely in for some solid child-rearing wisdom from the mind of a seven year old, I gave him my undivided attention.
"Well," he went on, "why do you only pack snacks for Nathan's lunch?"
"I pack what he likes. There's nutrition in there!" I was defensive. I'm a little self-conscious over my kid's pickiness sometimes and now I had let his friend ruffle my feathers. But it was early and I'd only had one gallon of coffee so far. I wasn't firing on all cylinders yet.
"There are all sorts of lunch things you could pack for him instead of cereal bars. See, my mom packs me chicken nuggets and sandwiches."
"Your mom sounds great."
"Do you want me to ask her what else you could make for him?"
"Um, no thanks."
He was taken aback that I declined his offer. But then he smiled broadly and I'm pretty sure I saw a light bulb illuminate over his head.
"Nathan could buy his lunch. The school actually sells food. On Fridays they have pizza!" He was so proud of himself.
Nathan, who stood by silently this entire time, finally joined the conversation.
"I don't like pizza," he said.
"Yeah, he doesn't like pizza," I said as I put my arm around Nathan's shoulder. Solidarity, my son.
Thankfully the teacher showed up just as this kid was refining the skill of the side-eye. He shrugged and said, "Okay, I don't know what to tell you then," and he took his place in line with the other children.
The other children who probably had better lunches than my kid did.
But this year will be different. I bought cinnamon bread and organic fruit strips. That's going to change everything.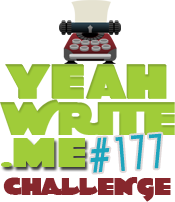 I'm participating in the yeah write weekly challenge grid. If you write, you should come check it out. There are prizes. (Click the badge above to learn more.)
Featured Image Credit: Me! This was an actual lunch I packed for Nathan before I gave up packing lunches he wouldn't eat.