It looks like I'm going to have to go shopping for new clothes in the very near future. I decided to revive this old post about one of the last times I had to visit a retail establishment to procure appropriate clothing. Shopping is a very dangerous affair, you guys.
This was originally posted on December 24, 2013.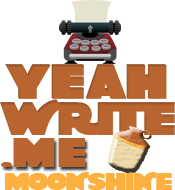 As someone who is simultaneously lazy, fat, and cheap, my clothes simply must last. I hate shopping. All that walking around, trying stuff on, it's too much. I don't like paying money for new clothing in a size I don't want to be. I need my clothes to just hang on indefinitely until I'm either wealthy, well-rested, and/or thin, preferably all three.
My unwillingness to shop has resulted in me owning only three pairs of jeans. Since I work from home, these jeans are all I wear. Well, except for the one pair that doesn't actually fit. I don't wear those. One pair was purchased in 2010 and I have worn them about four times a week since. The other pair is relatively new, purchased in May after my other jeans purchased in 2010 got a huge split from excessive wear and girth.
The seams of the old pair had been threatening to give way for some time and recently I decided that it was time these jeans caught a break. At least I had the pair from May to wear. I could wear those into the ground and go easier on my dying pair. Maybe I could even lose a little weight and fit into the inappropriately named skinny jeans that have taken up permanent residence in the drawer of ill-fitting clothing. It seemed like I dodged a bullet. I was not going to have to walk around bottomless OR go shopping. Everything was fine for a mere twenty four hours when my plans came crashing down.
I had to run a load of laundry so my kid would have a uniform shirt to wear to school the next day. I grabbed all the clothes that required laundering and I threw them in the washer, then transferred them later to the dryer. When the cycle was done and I opened the dryer door, I saw an empty, but still intact, crayon wrapper. I frantically examined each article of clothing, feeling relief that most of the orange smudges I found were in hidden places or clothes we don't wear outside.
But my good jeans were not so lucky. It would appear the jeans scooped up that crayon in one leg and saved the rest of the load. My only decent pair of pants – the only ones that fit, the only ones without a giant crotch tear – had martyred themselves for the sake of the child's wardrobe and my husband's boxers.
After several days spiraling through the five stages of grief, I was in a place where something could be done. I attempted to Goo Gone the crayon, but the goo did not go. I Oxi-Cleaned the pants, but the stain was still there.
I had no choice but to enter a Target on a Sunday afternoon, ten days before Christmas, to buy new pants. I psyched myself up, got new not-on-sale pants and went home relatively pleased that only one person gave me the finger in the parking lot.
This story would have had a happy ending if news didn't break a short time later that Target had a massive data breach. 40 million credit and debit card numbers may have been compromised over a 19-day period and my card became one of them around 4 p.m. on the 19th day.
These pants are nice and all, but they may turn out to be the most expensive pair I've ever purchased.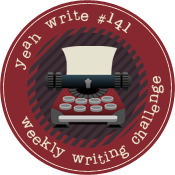 I'm submitting this post the challenge grid at yeah write. Please click the badge above to read the very best work of other writers joining the competition this week.