It's December 29. It's time to really think about what I want from the new year so that I can start it out on the right foot.
I don't want to have 1,000 emails in my inbox. That's 1,000 messages that I should have paid attention to the day each showed up, but I didn't. I'm letting too much in. I'm not selective about what I promise my time to and then I wonder why I have no time. Next year I will be more selective about who I let in. I will delete the email subscriptions that are no longer important to me. I will not be bullied by my gmail.
I don't want to have a house full of things I don't need, want, use, love. I don't want to have a house full of someone else's keepsakes. I don't want to feed into the culture of materialism or buy into the notion that if I just get more containers it won't feel like I have so much stuff. I'm done with stuff.
I don't want to be overweight, filling my mouth and stomach with fat and sugar and salt. There's no pleasure in food for me anymore and, arguably, there shouldn't have been from the start. At least not in the way I expected there to be.
I'm so tired. I think 2013 might have been my most tired year yet, despite the fact that I slept more this year than I have in the past six. I'm tired because of all of the excess. It's weighing me down, both literally and figuratively.
On the road to minimalism, the road to simplicity, 2014 is going to be the year of the purge.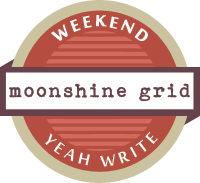 I'm submitting this post to the final moonshine grid of 2013. Click through to check out what other writers have shared.