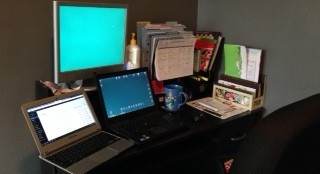 He wasn't technically my boss, but he had power within the organization and he lorded it over me as if he were. I will admit that in the beginning I enjoyed the perks his position afforded me.
One day I was invited into his office to chat and told to shut the door. He told me he needed to know if I was happy with my job. I said that I guessed I was, sure. That wasn't good enough. He wanted a yes or no answer. While I didn't feel like I was going after my calling by spreadsheeting insurance rates and finding out why claims weren't paid, it was better than unemployment.
"Yes," I said. "Why are you asking?"
"It doesn't matter," he said.
But it most certainly did matter. It turns out that someone overheard me say I hated my job the day before. He didn't have to tell me who. I already knew. I had been very frustrated with a client and I told a colleague that I hated my job. Another colleague, someone with a vested interest in making sure I never rose above her in the ranks, was in earshot. I wouldn't have let her hear had I known she was there, but I have a big mouth and at that moment I did hate my job. But moments pass.
The issue of my loyalty became a problem for both of us. He constantly felt the need to question it and I felt pressed to defend it. In my experience, one of the quickest ways to crush the spirit of a committed employee is to constantly question that employee's commitment. I did my best to let the exchanges go, if for no other reason than to get through each day.
A few months later, after a few happy hour drinks with a client, I was accused of "only sticking around until I got pregnant and could be a mommy." And while part of my life plan included children, the insinuation that I would bolt as soon as my biological needs kicked in was beyond insulting.
I didn't want to work around the clock. I didn't want to spend evenings at the office when I wasn't paid to do so. I put in my time, extra when needed, but only when needed. My job wasn't my life and this left him dissatisfied.
There were many other instances of his condescension. His my-way-or-the-highway approach never went unnoticed and, in fact, was starting to make the highway look pretty damn appealing. One particular day we had a disagreement and he eventually raised his voice telling me I needed to do as I was told. I reminded him I wasn't one of his children and spent the rest of the day making an exit strategy.
Once I was pregnant and deliberately edged out of everything possible, I think he thought he had been right all along. But it was more of a self-fulfilling prophecy than anything else because here I am, nearly eight years later, still working full time. Still a dedicated employee, still doing what needs to be done.
The difference is I don't do it for him.