Posted by
michellelongo
on Jan 30, 2015 in
Sponsored
|
0 comments
Smelling good – it's something most of us strive to do. When it comes to perfume though, I'll have to admit I'm clueless. My default lately has been that $1 bottle of stuff that's supposed to smell like vanilla or, if I'm really feeling daring, vanilla brown sugar. I can tell you that I generally don't like flowery scents. Lavender and gardenias especially make me want to turn over a car.
It's not that I don't like perfume. I do, I just don't really know how to deal with it. I've always liked Elizabeth Arden's Red Door and Eizabeth Taylor's White Diamonds. They are both kind of expensive and whenever I had any, I always wanted to save it for a special occasion. Then it would end up just sitting on my dresser so I stopped buying it and that's how I ended up buying cheap stuff because I don't feel the need to ration it. But I don't love the cheap scents so why even bother? (There's that smelling good thing…)
Enter Scentbird. Scentbird is a subscription perfume service. For $14.95 per month, you can get a 30-day supply of the perfume of your choice delivered to straight to your door. Straight to my door is possibly one of my most favorite phrases!
I recently gave this a whirl and it was just as easy as they said it would be. They have a great tool to help find the perfect fragrance. There were a few questions similar to the kind one would find on a Facebook quiz and then a place to put in perfumes I've liked in the past. I was then given a list of recommendations. They all fell into the category of I'll Have To Take Your Word For It because I'd never smelled most of them and some I'd never even heard of. Hovering over a selection revealed a brief description complete with pictures to give an idea of the scent (fruity, flowery, woodsy, etc.) and a few key words to describe it (flirty, sexy, office, party).
I chose Burberry Brit EDT. I will admit that I did so partially because I like how the bottle looks. This scent was described as fresh and playful (totally like me, right?) and good for everyday wear. My package arrived a few days later  – a little velvety pouch, a .3 oz vial of perfume (actually called a purse spray) and a little cylinder thing (perfume case). You put the vial in the thing and voila, you're all set. You twist it to open and close it, similar to a lipstick. It's great for tossing in your purse for a night out which is probably why they call it a purse spray.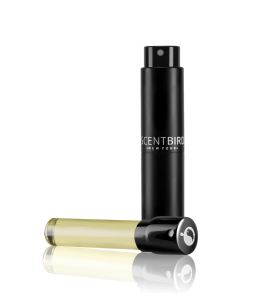 You can set up a perfume calendar of scents that you want to try. As you test out a new fragrance, you can update your preferences and you'll get more recommendations. There's also a monthly featured perfume for those among us who don't like making decisions (it's like they *know* me!).
How did I like Burberry Brit EDT? I loved it. It's very much how it was described so I rated it 4 hearts. I'm not sure what I'll try next, but I'm looking forward to picking something new. I don't leave the house every day and it seems weird to put on perfume while I'm still in my pajamas, so I haven't been using the perfume daily. I don't feel like it's only good for evening wear though, so anytime I did leave the house I used some.
If you're into perfume and you like to mix it up with low-risk, I think Scentbird is a great way to go. The $14.95/month is pretty reasonable and there are discounts if you purchase a multiple-month subscription up front. You don't end up with the dusty bottles of things you're bored of and there's no commitment. You can quit at any time. There's a great FAQ section on the website telling you when they bill, when they ship and when you'd have to cancel by so you don't get charged for that month.
Here's the other cool thing: There's a referral program. So if you like perfume and your friends like perfume, you can give them your code. For every three people who subscribe using your code, you get a free month. If you were going to do it anyway, this makes good sense.
I'm hard-pressed to find a downside here, but this is what I came up with. First, it's a subscription based service, so if you sign up and then forget to cancel, you're stuck paying for it. This is pretty much true of any subscription based service though so I think everyone is pretty aware of what they're getting into here. The other thing? No one really *needs* perfume. This is a luxury item and some people truly don't have fifteen bucks to spend on non-necessities. I stand by my position, however, that if you like perfume and you're going to be buying some anyway, this is a really neat way to do it.
I'm happy to be able to offer my readers a discount. Use the code SCENT25 to receive 25% off your first month. You can visit the website to get started by clicking here. They are also on Facebook and twitter.
Thanks to Scentbird for the reader discount and for providing me with a free first month. Although I received compensation in the form of perfume for writing this post, the views expressed are my own.