It had been months since I'd slept. This baby was keeping me up all night, every night. He wanted to eat, he wanted to cry. Even after he was fed and changed, he still didn't sleep. So I'd rock and sway and bounce and sing. He'd finally drift off and then I'd ease both of us down onto the bed together like we were one being, hoping not to wake him in the process. I'd sleep for an hour or so and in no time he'd be up and it'd be time to do it all again.
I had long since reached the point where I had any idea if I was simply exhausted or in the throes of postpartum depression. I was certain that I was no longer certain there was a distinction between the two. And I knew without a doubt it didn't matter anymore. I spent those hours awake in the night worrying about my mental state. I worried about everything else under the sun and then, when I'd exhausted all possible topics, I worried that my incessant worrying would worsen my mental state.
One of those nights, as I held my baby close to me, afraid to blink for fear the noise would wake him, I saw a sparkle in the fleece receiving blanket I was covering both of us with. It wasn't as much a sparkle, I realized, as a spark. I moved my leg, and there was a flash, and then another. My heartbeat quickened and I held my breath, certain the baby was going to catch fire. Babies and their blankets should not spark. 
I moved again, another spark. I glanced at the boy who, by some miracle, wasn't stirring. I carefully kicked the blanket from us, sparks of light twinkling in the darkness of a cold winter's night. I pushed it to the floor. Pinned beneath my child, I silently wondered which was the bigger risk: the house burning down or waking Nathan. And there was still that chance he'd spontaneously combust. I was frozen. Worried we wouldn't live through the night, I simply did nothing.
Eventually I drifted off. By the light of morning it was clear there was nothing wrong with the blanket or the boy. Perhaps it was all a dream.
This scenario repeated itself for an embarrassingly long time before I realized the sparks in the blanket had been static electricity. Nothing and no one was going to catch fire. I had worried myself sick, needlessly.
I never told anyone about the sparks and what now just feels like my own silliness. I left that part out when I finally met with my doctor, months later, to tell her that I was now completely sure that my uncontrollable crying was probably not a symptom of my extended sleep deprivation. I took the pills she gave me and worried just a bit less about my fitness for motherhood.
I don't take the pills anymore, but I do still spend many nights awake. I'm still weary down to my core, my kid still doesn't sleep enough, and I still spend hours contemplating our futures.
When my own fleece bed covering makes sparks in the night, though, I no longer worry that we're all going to die. Well, at least not from a blanket.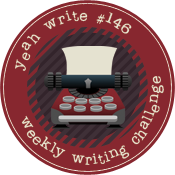 Joining my friends on the challenge grid. Click on the badge above to learn more about yeah write.
Featured image credit: www.make-baby-stuff.com