On an August afternoon in the summer of 1986, just before fifth grade, I rode my bike to my best friend's house. In my pocket was a note for my friend's mom written by my own mom. I was instructed not to read it, but this was apparently before she realized she should seal envelopes she didn't want me to open. The note explained there had been an incident and now there was a restraining order. My dad wasn't allowed to come near me. If he did, my friend's mom should call the police.
I started school that September armed with a similar note. Dad was not an emergency contact. I should never be released from school into his care. He was dangerous.
I felt like a spectacle. I felt like everyone knew things about me, about my family, that I didn't want people to know. Every time they looked at me I could feel their thoughts weighing on me. Everyone knew, and now they were looking at me in a way only the neighbors previously had.
It took me years to figure out that this is why I've always been preoccupied with the notion of others thinking of me. Whether they liked me or not wasn't really the issue. The more I thought about that, the more I realized I would just prefer people didn't think of me at all. Thinking about me opened doors that felt better left closed.
It's better to just stay below the radar. It's safer over there.
The trouble is that I don't have that kind of personality. I keep thrusting myself into spotlights, wondering how the hell I got there, then wondering what people are thinking. And even when I'm playing the wallflower, life happens. Hiding isn't really easy for me, so I've had to work at being comfortable being seen. It takes practice, and effort, and intestinal fortitude.
I'm getting there, but maybe not really.
***
The past few weeks have been full of ups and downs. We had two wonderful family vacations. We also had a death in the family, a car accident, and summer colds. I've had to explain to people what's been going on. Camp counselors needed to be made aware of all the things that could be contributing to my kid being out of sorts. I've had to explain to my job why I'm taking an early lunch or I need to leave 15 minutes early. I've made multiple calls to the insurance adjuster and texted a zillion questions to my friend whose husband is fixing my car. I've had to ask for help in my personal life based on so much schedule upheaval.
Mostly through no fault of my own, I've directed way too much attention toward myself lately.
I feel uneasy.
I feel like every point of contact I make, the other person is thinking, "Oh no. Not her again. What is it this time?"
I feel like I should hide for awhile, but I also know I probably can't.
I know everyone has months like this where things are hectic. I know having a kid means constantly updating his various caregivers on our home life. I know this is not the same as what happened in 1986. I know it. But still somewhere, in the back of my mind…
***
I am a spectacle. I will always be a spectacle.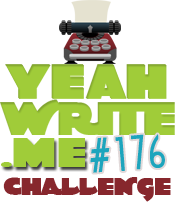 After a bit of a hiatus, and seemingly counter-intuitive to the above post, I'm joining my friends at yeah write. If you're a writer who blogs or a blogger who writes, please join us by clicking on the badge above.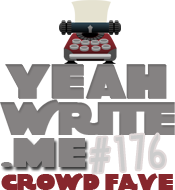 In an exciting turn of events, this post took home crowd favorite at the yeah write weekly writing challenge this week. Thanks to everyone who voted!