After the recent discovery that it had snowed in my attic, it became abundantly clear that we were going to have to do some work to further protect our house from weather. And by "do some work," I hope it is abundantly clear that I mean I had to call someone about coming to do some work.
I know, you're wondering how I can be all nonchalant about attic snow, but it's the second time this has happened, and much like I hear about second children, you just tend to get more laid back about this sort of thing. Really, it's no big deal. There's apparently some issue with a shingle and the dormer and the whosy-what's-it and I think the contractor said he has to make the roof bigger. I should probably ask him to clarify.
Today was finally warm enough for me to get into the attic and start moving stuff around in preparation for the work to be done. I sorted and discarded and stacked and photographed items for sale and did all the things one does when trying to empty an entire floor of one's house. I did all this while trying to ignore the fresh unearthing of a hole through which I could actually see to the outside world that was not, in fact, a window. And whilst I was up in the attic, rearranging all of the things we obviously don't need or they wouldn't be up there in the first place, I saw a dead bee. And a dead fly. And another fly, a spider, a ladybug, some unidentifiable shell of a creature, and another fly, all dead. Near them, I saw some of their friends, who were also, as you might imagine, dead.
Now, I'm not the sort of girl to freak out over a bug in my house. I don't imagine we are any more or less buggy than anyone else. Bugs happen and, though I'd prefer they happen less frequently, I tend to try to ignore them. But today,when I discovered no less than one zillion dead bugs, I got a little skeeved. I swept them up, shuddered a bit and entered into a period of denial. By dinnertime, I even forgot about them.
As I was getting Nathan ready for bed, I noticed something on his floor. Thinking it was lint, or one of the many crumbs that seem to form a trail behind him, I bent to pick it up. It was neither lint nor crumb. It was, instead, the exo-skeletal remains of yet another insect.
I am no fool, you see. I know how this happened. I was still wearing the clothes I had been wearing in the attic. In other words, I had bug on me all afternoon. It was me. I was spreading bug.
My clothes are currently boiling in bleach. I am disgusted and revolted. I might need to burn down my house. Every single part of my body is itchy. I'm going to take a shower and then, when I'm done, I'm going to take another.
Next time I go in my attic, I'm bringing my switchblade. If I see another of those little jerks, dead or alive, I'm going to cut it. Then I'm going to douse it with superfluous pepper spray. Then I'm going to step on it, and then I'm going to spit on it, just so it knows how I really feel.
And then I'm probably going to get that hole patched up.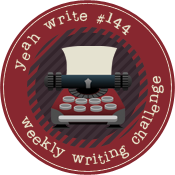 Joining in the fun with my friends at yeah write. Do you like to have fun? You should join in, too.